VODKA CREAM ZOODLES Recipe
March 01, 2021
←

Back to All Recipes
Vodka Cream Sauce: This might be controversial, but zoodle recipes never really did it for us. Until now... Makes 2 Servings.
Ingredients:
2 tablespoons olive oil (we use our Garlic & Herbs Olive Oil)
1 shallot, thinly sliced
2 cups Sonoma Gourmet Vodka Cream Sauce
2 cloves garlic, mashed into a paste
1/2 cup sliced roasted red bell pepper
4 small cremini mushrooms, sliced
Kosher salt
Freshly ground black pepper
12 ounces zucchini noodles
Shaved Parmesan cheese
1/4 cup torn fresh basil
Pinch of red pepper flakes
Preparation:
In a large pan or skillet, heat the olive oil on medium-high until it shimmers. Add the shallot, tossing to brown and soften, about 2 minutes. Add the garlic and cook for 30 seconds.
Add the Vodka & Cream Sauce, roasted peppers, and mushrooms. Season with salt and pepper and stir to combine.
Reduce the heat to low and add the zucchini noodles and season with a pinch of salt. Using tongs, gently toss the noodles in the sauce until well coated.
Cover and simmer on low for 5 to 7 minutes, until the zucchini is tender, but not mushy.
Serve in bowls, topped with Parmesan, torn basil, red pepper flakes, and a drizzle of olive oil.
In This Recipe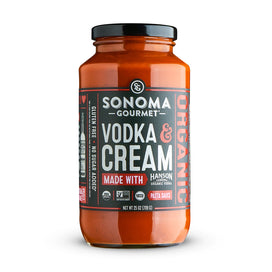 Vodka Cream Sauce
$9.99

Please note, comments must be approved before they are published