ULTIMATE BLOODY MARY Recipe
June 06, 2020
←

Back to All Recipes
Bloody Mary Mix: Anyone down for a deliciously simple Bloody Mary? Also, yes, it's diet-friendly and gluten-free. Makes 4 – 6 servings.
Ingredients:
1 bottle Sonoma Gourmet Bloody Mary Mix
2 tablespoons fresh lemon juice
2 tablespoons fresh lime juice
1/3 cup pickle brine/juice
2 tablespoons flaky salt
1 tablespoon raw sugar
8 to 12 ounces vodka
Celery stalks, for serving
Pickled asparagus, for serving
Pimento stuffed olives, for serving
Pepperoni sticks, for serving (optional)
Preparation:
In a large pitcher, add the Sonoma Gourmet Bloody Mary Mix, lemon juice, lime juice, and pickle juice. Stir well until combined.
If possible, refrigerate the mixture for an hour or two to let the flavors meld.
Combine the flaky salt and sugar in a bowl and stir to combine.
When ready to serve, run a lime wedge around the rim of a tall glass and sprinkle the rim with some of the salt-sugar mixture.
Fill the glass with ice, add 2 to 3 ounces of vodka, and fill the remainder of the glass with the Bloody Mary Mix. Stir well to combine.
Garnish with the lime wedge, a celery stalk, a pickled asparagus spear, a few olives, and a pepperoni stick.
In This Recipe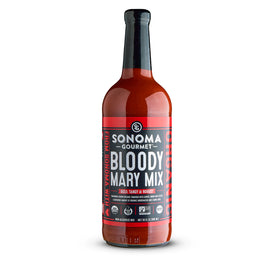 Bloody Mary Mix
$9.99

Please note, comments must be approved before they are published
Liz Hey
October 20, 2021
OMG!!! I found you…and I'm a very happy camper! For a few years, I was in love with Bloody Bob's and then, it disappeared…AUWE! What to do? Well, I jumped into the 'what's available' dance. NO THING compared, I was soo disappointed, sad even 8=( I'd talked to them in Healdsburg way back to compliment them and then, this year, the phone calls weren't returned. YOU HAVE CHANGED ALL THAT! I Love your mix, just used it for a pot roast, needed a little liquid and BAM added a glug of your FAB mix. MAHALO from Petaluma (Safeway shopper), you're my new Hero!