SPICY BLOODY MARIA Recipe
June 06, 2020
←

Back to All Recipes
Bloody Mary Mix: The spice is nice with a some spruced up bloody mary mix and a healthy dose of some top-notch tequila. Makes 4 – 6 servings.
Ingredients:
1 bottle Sonoma Gourmet Bloody Mary Mix
1 tablespoon fresh lemon juice
3 tablespoons fresh lime juice
1/3 cup pickled jalapeño juice
1 tablespoon chili powder
1 teaspoon brown sugar
1 tablespoon freshly grated lemon zest
8 to 12 ounces blanco tequila
1 teaspoon freshly ground black pepper
Celery stalks, for serving
Pickled jalapeños, for serving
Tamarind sticks, for serving (optional)
Preparation:
In a large pitcher, add the Bloody Mary Mix, lemon juice, lime juice, and jalapeño brine. Stir well until combined.
If possible, refrigerate the mixture for an hour or two to let the flavors meld.
In a bowl, combine chili powder, brown sugar, and lemon zest and stir to combine.
When ready to serve, run a lime wheel around the rim of a tall glass and sprinkle the rim with some of the chili-sugar-zest mixture.
Fill the glass with ice, add 2 to 3 ounces of blanco tequila, and fill the remainder of the glass with the Bloody Mary Mix. Stir well to combine.
Garnish with the slice of lime, a grind or two of ground black pepper, a celery stalk, pickled jalapeños, and a tamarind stick.
In This Recipe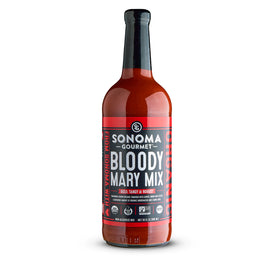 Bloody Mary Mix
$9.99

Please note, comments must be approved before they are published