BAKED ZUCCHINI ROLL-UPS Recipe
June 05, 2020
←

Back to All Recipes
Roasted Veggie Sauce: An easy and delicious dish that will become a vegetarian staple. That's how we roll. Makes 4 to 6 Servings.
Ingredients:
1 25 oz. jar Sonoma Gourmet Roasted Veggie Sauce
3 tablespoons olive oil (we use our Basil & Parmesan Olive Oil)
6 large zucchinis
15 ounces whole milk ricotta
1 teaspoon lemon zest
2 tablespoons mint, finely chopped
3/4 cup grated Parmesan, divided
2 large eggs
1 teaspoon granulated garlic
1/2 teaspoon kosher salt
1 teaspoon white pepper
1 teaspoon crushed red pepper flakes
3/4 cup shredded mozzarella
2 tablespoons chopped basil
Preparation:
Preheat oven to 400 degrees F.
Using a vegetable peeler, slice zucchini lengthwise into 1/8" thick strips. Place strips on a paper towel-lined baking sheet or cutting board.
In a medium bowl, combine 2 tablespoons olive oil, ricotta, lemon zest, mint, 1/2 cup Parmesan, eggs, granulated garlic, salt, white pepper, and red pepper flakes.
Spread a thin layer of the Roasted Veggie Sauce onto the bottom of a 9" x 13" baking dish.
On each slice of zucchini, spoon a thin layer of sauce, a thin layer of the ricotta mixture, and sprinkle with mozzarella. Roll each piece and place in the baking dish, spiral side up. Repeat and tightly pack the rolls together.
Sprinkle the remaining 1/4 cup of Parmesan on top and bake for 20 minutes.
Remove from the oven, drizzle with remaining olive oil, top with basil, and serve immediately.
In This Recipe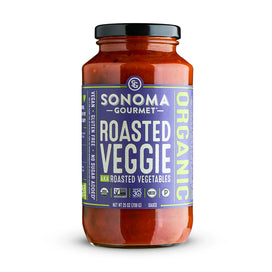 Roasted Veggie Sauce
$9.99

Please note, comments must be approved before they are published