SIMPLE CIOPPINO Recipe
June 06, 2020
←

Back to All Recipes
Cioppino: Quick, easy, and delicious. We did all the work so you don't have to. This is the San Francisco classic in a jar. Just add seafood and love. Makes 4 Servings.
Ingredients:
2 jars Sonoma Gourmet Cioppino
1/2 cup dry white wine
2 tablespoons unsalted butter
1 tablespoon kosher salt
1 tablespoon crushed red pepper flakes
14 clams, scrubbed
14 mussels, scrubbed
3/4 pound halibut, skin removed and cut into 2" chunks, seasoned with salt
12 large shrimp, peeled and deveined, seasoned with salt
8 ounces Dungeness crab meat
1 tablespoon fresh lemon juice
1/4 cup chopped fresh parsley, plus more for garnish
Crusty sourdough bread for dipping (optional)
Preparation:
Heat a large stock pot or Dutch oven over medium heat.
Add wine and butter. Cook for 1 minute.
Add cioppino sauce and red pepper flakes and stir to combine. Bring to a simmer (about 5 minutes).
Add clams and mussels. Cover and cook for 3 minutes.
Add halibut, submerge in broth, and cook for 3 minutes.
Add shrimp, submerge in broth, and cook for 3 minutes.
Add crab meat on top of the broth and cook for 1 minute.
Remove from heat, discard any clams or mussels that didn't open and season if necessary.
Add lemon juice and parsley and stir to combine.
Ladle the cioppino into bowls, top with additional parsley and serve with crusty bread.
In This Recipe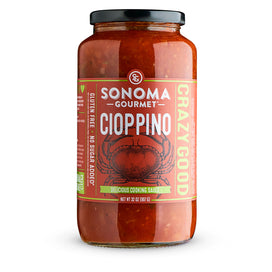 Cioppino
$9.99

Please note, comments must be approved before they are published