GAZPACHO Recipe
February 14, 2021
←

Back to All Recipes
Roasted Veggie Sauce: Quick and easy take on the cold Spanish soup...Sonoma-style. Makes 2 Servings.
Ingredients:
25 oz. jar Sonoma Gourmet Roasted Veggie Sauce
1 tablespoon fresh lemon juice
1/2 jalapeño pepper, seeded and minced
1 tablespoon olive oil
1/2 teaspoon sherry vinegar
1 medium fresh tomato, diced
1 yellow bell pepper, seeded and diced
2 green onions, thinly sliced
1/2 English cucumber, diced
2 tablespoons chopped fresh basil
3/4 teaspoon kosher salt
1 teaspoon freshly ground black pepper
1 tablespoon minced chives
Preparation:
In a large bowl, combine the Roasted Veggie Sauce, lemon juice, jalapeño, olive oil, and sherry vinegar. Mix well.
Stir in the tomato, yellow bell pepper, green onion, cucumber, basil, salt, and pepper.
Cover and refrigerate for at least 30 minutes and up to overnight.
Remove from the fridge, stir well, and serve garnished with minced chives.
In This Recipe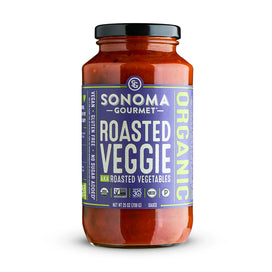 Roasted Veggie Sauce
$9.99

Please note, comments must be approved before they are published