ROASTED VEGGIE & OLIVE TAPENADE Recipe
June 05, 2020
←

Back to All Recipes
Roasted Veggie Sauce: You've gotta try this tasty twist on tapenade with a saucy, roasted veggie bent. Makes About 4 Cups.
Ingredients:
3/4 cups Sonoma Gourmet Roasted Veggie Sauce
2 cups pitted kalamata olives
2 cloves garlic, smashed
1/3 cup dehydrated sun-dried tomatoes
1/3 cup tightly packed fresh basil
1/3 cup tightly packed fresh mint
1 tablespoon olive oil (we use our Roasted Chiles Olive Oil)
3 tablespoons lemon juice
1/2 teaspoon kosher salt
1/2 teaspoon freshly cracked black pepper
Preparation:
In a food processor, add the sauce, olives, garlic, sun-dried tomatoes, basil, olive oil, lemon juice and mix to achieve a dip-like texture. Scrape down sides as needed.
Add a pinch of salt and pepper and pulse a few more times.
Serve immediately or store in the refrigerator for a week or so.
In This Recipe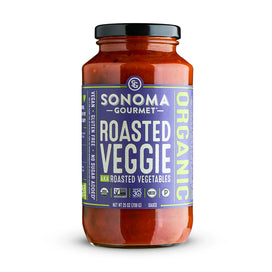 Roasted Veggie Sauce
$9.99

Please note, comments must be approved before they are published