MEXICAN RICE Recipe
March 01, 2021
←

Back to All Recipes
Roasted Garlic Sauce: This simple rice dish gets sauced up with some garlicky goodness and spiced up with some roasted chile magic. Makes 6 Servings.
Ingredients:
2 cups long-grain rice
1 small yellow or white onion, finely chopped
2 tablespoons Sonoma Gourmet Roasted Chiles Olive Oil
2 cups Sonoma Gourmet Roasted Garlic Tomato Sauce
2 cups low-sodium chicken or vegetable broth
2 fresh Roma tomatoes, chopped
3 cloves garlic, grated or minced
1 small jalapeño, seeded & minced
2 teaspoons kosher salt
3/4 teaspoon cumin
1/2 cup fresh cilantro, roughly chopped
Kosher salt
Freshly ground black pepper
Lime wedges, for serving (optional)
Preparation:
In a large pan or Dutch oven, heat the olive oil on medium heat until it shimmers. Add the uncooked rice, tossing frequently until golden brown and toasted, 2 to 3 minutes.
Add the chopped onion and toss just until translucent, about 1 minute.
Add the garlic, jalapeño, cumin, salt, black pepper, tomato sauce, and broth. Stir to combine and heat until gently boiling.
Cover the pan and reduce heat to a low simmer. Cook for about 30 minutes, or until all liquid is absorbed, gently fluffing the rice after 15 minutes.
Taste the rice for seasoning and add additional salt and black pepper, if desired. Fold in the freshly chopped tomatoes until fully incorporated. Top with freshly chopped cilantro and a squeeze of fresh lime juice (if using) and serve.
In This Recipe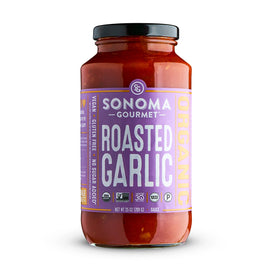 Roasted Garlic Sauce
$9.99

Please note, comments must be approved before they are published