CREAMY CHICKEN PASTA WITH SUNDRIED TOMATOES Recipe
June 04, 2020
←

Back to All Recipes
Vodka Cream Sauce: Creamy and savory as tender chicken meets sun-dried tomatoes in this saucy crowd favorite. Makes 4 to 6 Servings.
Ingredients:
1 25 oz. jar Sonoma Gourmet Vodka Cream Sauce
Kosher salt
White pepper
1 teaspoon paprika
2 tablespoons olive oil (we use our Sautéed Garlic Olive Oil)
4 garlic cloves, minced
6 oz. oil-packed, sundried tomatoes, removed from oil; oil reserved
1.5 pounds boneless, skinless chicken thighs, fat trimmed and cut into 1/2" chunks
1 cup shredded mozzarella cheese
16 oz penne pasta
3 tablespoons basil, chopped
1 teaspoon red pepper flakes
Preparation:
Season the chicken liberally with kosher salt, white pepper, and paprika.
In a large skillet, heat 2 tablespoons of olive oil.
Sauté garlic and sundried tomatoes for 1 minute.
Remove the sundried tomatoes from the skillet, leaving the garlic and oil.
Add a tablespoon of the reserved sundried tomato oil. Add the chicken and sauté for 1 minute per side. Remove from heat.
Cook the pasta according to package instructions. Drain the pasta, reserving 1/2 cup of the pasta cooking water.
Slice sundried tomatoes into smaller pieces and add them back to the skillet with the chicken.
Add the sauce and shredded mozzarella to the skillet, stir and bring to a simmer. Cook until the cheese is melted.
Add cooked and drained pasta to the skillet with the cream sauce and stir to combine.
Add 1 tablespoon of basil and the red pepper flakes. Stir to combine.
If the sauce is too thick, add some of the reserved pasta water a tablespoon at a time.
Season the mixture with salt and white pepper to taste. Let it simmer for a couple of minutes for flavors to combine.
Dish up and top with remaining basil.
In This Recipe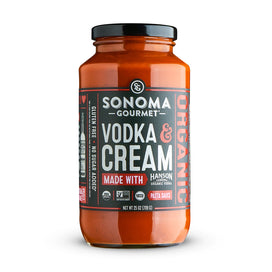 Vodka Cream Sauce
$9.99

Please note, comments must be approved before they are published