BROTHY BEANS Recipe
June 05, 2020
←

Back to All Recipes
Roasted Veggie Sauce: These saucy garlicky beans are the newest member of the comfort food family. Invite some toasted bread to the party and call it a night. Makes 4 Servings.
Ingredients:
1 jar of Sonoma Gourmet Roasted Veggie Sauce
1/4 cup of olive oil (we use our Sautéed Garlic Olive Oil)
1 medium yellow onion, thinly sliced
4 large garlic cloves, thinly sliced
1 teaspoon crushed red pepper flakes
1/2 cup dry white wine
2.5 cups dried gigante or butter beans
5 dried bay leaves
4 sprigs of fresh oregano
Zest of 1 large lemon
1 tablespoon Kosher salt, plus more for serving
1/3 cup grated Parmesan cheese, plus more for serving (optional)
Preparation:
Using the sauté feature on the Instant Pot, heat 1/4 cup oil.
Add the onion and cook, stirring often, until translucent, about 6 minutes.
Add the garlic and crushed red pepper flakes, and cook, stirring, until fragrant, about 2 minutes.
Add the wine, bring to a boil, and cook until the pot is almost dry, about 5 minutes.
Add the beans, bay leaves, oregano, lemon zest, 1 tablespoon of salt, 2 cups water, and all of the Roasted Veggie Sauce. Stir to combine.
Close/Seal the pressure cooker and cook on high pressure for 45 minutes.
After 45 minutes, manually release the pressure, being careful of the steam. The beans should be tender and creamy. Remove the bay leaves and oregano stems.
Stir in 1/3 cup of grated Parmesan cheese, taste, and adjust seasoning if necessary.
Serve beans topped with more grated Parmesan and a drizzle of olive oil.
In This Recipe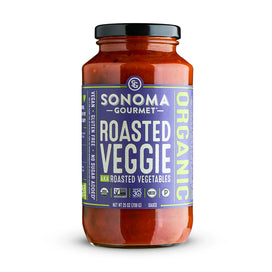 Roasted Veggie Sauce
$9.99

Please note, comments must be approved before they are published