BRAISED ROTISSERIE CHICKEN Recipe
June 05, 2020
←

Back to All Recipes
Cherry Tomato Basil Sauce: Braised rotisserie chicken meets a sweet and tangy sauce in this easy keto recipe. Makes 4 Servings.
Ingredients:
1 jar Sonoma Gourmet Cherry Tomato Basil Sauce
3 tablespoons olive oil (we use our Sautéed Garlic Olive Oil)
4 cloves garlic, minced
1/2 cup pitted oil-cured olives
1/4 cup kalamata olives
2 tablespoons capers, drained
2 teaspoons crushed red pepper flakes
1 teaspoon lemon zest
16 ounces dried linguine (or your favorite GF pasta)
2 tablespoons chopped fresh parsley
2 tablespoons chopped fresh marjoram or oregano
2 tablespoons chopped fresh basil
Preparation:
Bring a large pot of salted water to a boil.
Add 2 tablespoons of olive oil and the butter to a large nonreactive skillet or Dutch oven over medium heat.
Add the garlic and sauté for 1 minute.
Add the olives, capers, and red pepper flakes and sauté for 2 minutes.
Add the pasta to the water and cook for 1 minute less than the packaging instructions.
Add the whole jar of sauce and lemon zest to the garlic, olives, and red pepper flake mixture. Stir to combine and simmer until the pasta is done.
Drain pasta, reserving 1/4 cup of the cooking liquid.
Add a cup or so of the sauce to the bottom of the pasta pot and turn the heat to medium. Add the pasta, remaining sauce, two tablespoons of pasta water, and half the herbs. Toss gently to combine, adding pasta water if desired.
Dish up and garnish with remaining herbs and a drizzle of olive oil.
In This Recipe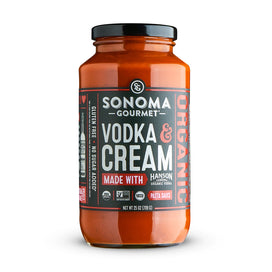 Vodka Cream Sauce
$9.99

Please note, comments must be approved before they are published