BEEF BOLOGNESE Recipe
June 08, 2020
←

Back to All Recipes
Vodka Cream Sauce: A super easy twist on the classic bolognese for those who like to be a little different. Makes 4 Servings.
Ingredients:
1 jar Sonoma Gourmet Vodka Cream Sauce
2 tablespoons Olive Oil (we use our Garlic & Herbs Olive Oil)
1 pound ground beef (preferably 80/20 mix)
1 cup dry red wine
2 garlic cloves, grated
3 bay leaves
1 tablespoon red wine vinegar
2 tablespoons tomato paste
1 cup chicken broth
1 cup whole milk
2 teaspoons freshly ground black pepper
2 teaspoons kosher salt
2 teaspoons crushed red pepper flakes
12 ounces pappardelle noodles (or your favorite GF pasta)
Shaved or grated Parmesan cheese
1 tablespoon fresh parsley, chopped
1 tablespoon fresh basil, chopped
1 tablespoon fresh mint, chopped
Preparation:
In a large Dutch oven or pot, heat the olive oil over medium heat and add the ground beef and a hefty pinch of salt. Brown the beef for 4 to 5 minutes, breaking up into bits with a wooden spoon as it cooks.
Increase heat to medium-high and add the wine. Stir frequently until the liquid is mostly gone, 8 to 10 minutes.
Add the jar of Sonoma Gourmet Vodka Cream sauce, chicken broth, milk, bay leaves, garlic, tomato paste, red wine vinegar, black pepper, salt, and red pepper flakes. Stir to combine, increase the heat and bring the sauce mixture to a boil.
Once boiling, reduce the heat to medium-low and let the sauce simmer for about 1 hour, until the liquid has reduced by half and the sauce has thickened.
When the sauce has about 10 minutes left, cook the pasta for 1 minute less than the package instructions. Reserve some of the cooking water and drain the pasta. Add the pasta back to the pot.
Remove bay leaves from the sauce and discard.
Add the sauce to the pasta along with a few tablespoons of the pasta water and gently combine. Add more pasta water a tablespoon at a time if desired.
Serve in individual bowls, topped with shaved/grated Parmesan and chopped herbs.
In This Recipe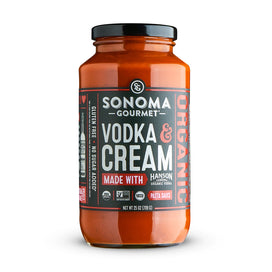 Vodka Cream Sauce
$9.99

Please note, comments must be approved before they are published