VEGETARIAN CHILI Recipe
March 01, 2021
←

Back to All Recipes
Roasted Veggie Sauce: Chill out, vegetarians. We've got a meatless chili recipe just for you (and anyone who loves delicious food). Makes 4 Servings.
Ingredients:
4 tablespoons Sonoma Gourmet Garlic & Herbs Olive Oil, divided, plus more for serving
1 large yellow onion, thinly sliced
3 large garlic cloves, minced
8 ounces cremini mushrooms, thinly sliced
2 teaspoons chili powder
2 teaspoons ground coriander
2 teaspoons dried oregano
25 oz. jar Sonoma Gourmet Roasted Veggie Sauce
15 oz. can black beans, drained
2 teaspoons hot sauce
2 tablespoons honey
2 teaspoons kosher salt
2 teaspoons freshly ground black pepper
1/2 cup shredded cheese, for serving
1 avocado, peeled and sliced, for serving
Pickled jalapeños, for serving
1/4 cup crema or sour cream, for serving
1/4 cup chopped fresh cilantro, for serving
Preparation:
Heat a large skillet over medium-high. Add the oil and when hot, add the onion and sauté until softened, about 5 minutes.
Add the garlic, mushrooms, chile powder, and oregano. Stir to combine and sauté for another minute.
Add the beans, hot sauce, honey, tomato sauce, and a few large pinches of salt and pepper. Stir to combine and let simmer for 10 minutes.
Taste and add more salt, chile powder, and oregano to taste.
To serve, top with shredded cheese, avocado, jalapeño, a dollop of crema, and a few pinches of cilantro.
In This Recipe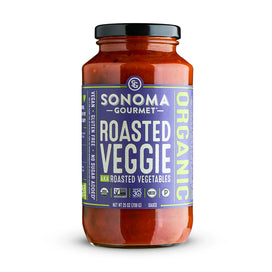 Roasted Veggie Sauce
$9.99

Please note, comments must be approved before they are published