SHEET-PAN SAUSAGE & VEGGIES Recipe
June 05, 2020
←

Back to All Recipes
Roasted Garlic Sauce: It doesn't get much easier or better than sausages, veggies, and sauce. Weeknights done right, ya dig. Makes 4 Servings.
Ingredients:
1 jar Sonoma Gourmet Roasted Garlic Sauce
7 tablespoons olive oil, divided (we use our Sautéed Garlic Olive Oil)
2 pounds raw sausages (we like any combination of Italian pork, Italian chicken, or chorizo)
8 small red potatoes, halved
5 cloves garlic, peeled and smashed
1 large yellow onion, thinly sliced
1 yellow bell pepper, seeded and cut into 1/4" strips
1 orange bell pepper, seeded and cut into 1/4" strips
1 red bell pepper, seeded and cut into 1/4" strips
6 ounces cremini mushrooms, quartered
1 medium zucchini, halved lengthwise and sliced 1/4" thick
1.5 cups seedless red grapes
2 teaspoons sweet paprika
1/4 cup, plus 2 tablespoons chopped fresh parsley, divided
1 tablespoon kosher salt
1 tablespoon freshly ground black pepper
Preparation:
Preheat the oven to 400 degrees F.
In a large skillet, heat 2 tablespoons olive oil over medium heat. Cook sausage in the hot oil until lightly browned, about 2 minutes per side. Set aside.
Place potatoes, onion, bell peppers, mushrooms, zucchini, grapes, and parsley in a large bowl. Season with salt, pepper, paprika, and remaining oil. Mix well.
Spread vegetables on a rimmed baking pan lined with aluminum foil. Nestle the browned sausages into the vegetables.
Add to the oven, and roast for 30 minutes, stirring halfway through.
Remove from oven and set sausages aside. If necessary, season the vegetables with salt and pepper and lay out on a platter. Top with sausages (sliced or whole), remaining 2 tablespoons of parsley, and a drizzle of olive oil.
In This Recipe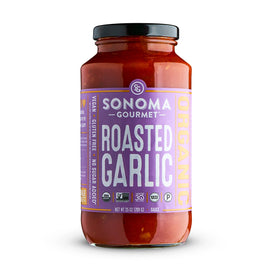 Roasted Garlic Sauce
$9.99

Please note, comments must be approved before they are published